Gunny G: BLOGGIN' BAD!~MAKE AMERICA "AMERICAN"! AGAIN!!!!! (FUBO!) BRING BACK AMERICA's HAT! (THAT BAD ASS DEPLORABLE FEDORA!) ~ $H!T-CAN THE STAIN, STIGMA, STENCH AND SHAME OF "THE PRINCE OF FOOLS"~ AND: "FINALLY," ~ BRING THE "POF" TO JUSTICE!, EXPOSE! AINOs (AMERICANS IN NAME ONLY), AND FLUSH THE SWAMP~POWER-FLUSH! "TWICE!"-("FLOATERS" Y'KNOW!) -POTUS .45 TRUMP COCKED and LOCKED!.....-ONE RIGHTEOUS MAN--IF WE CAN KEEP HIM! ~ Illegitimi non carborundum..!
Notes from the DrainsWhat Cops Really Do
August 23, 2014
The police are out of control all across the country.
They can kick in your door at three al.m., shoot your dog, and handcuff your daughters, and you have no recourse. All of this happens with the explicit, intentional help of the federal government. There is nothing to be said for them, police or government.
That having been noted, it might be interesting to look at the world as seen by a normal cop from before the budding of the dictatorship.To that end, let us suppose that you, the reader, are an average white cop in, say, Washington, DC. Let us further agree that you are not swatted-out, do not have ninja fantasies. You are not evil and do not want to hurt anyone. Evil cops exist, but you are not one of them.
***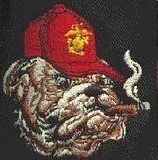 ***
View original post 636 more words