Gunny G: BLOGGIN' BAD!~MAKE AMERICA "AMERICAN"! AGAIN!!!!! (FUBO!) BRING BACK AMERICA's HAT! (THAT BAD ASS DEPLORABLE FEDORA!) ~ $H!T-CAN THE STAIN, STIGMA, STENCH AND SHAME OF "THE PRINCE OF FOOLS"~ AND: "FINALLY," ~ BRING THE "POF" TO JUSTICE!, EXPOSE! AINOs (AMERICANS IN NAME ONLY), AND FLUSH THE SWAMP~POWER-FLUSH! "TWICE!"-("FLOATERS" Y'KNOW!) -POTUS .45 TRUMP COCKED and LOCKED!.....-ONE RIGHTEOUS MAN--IF WE CAN KEEP HIM! ~ Illegitimi non carborundum..!
The first black president, really?
Note: GyG: See 5 Black POTUS!-
CommentsMarch 1, 2014 Gunny G Edit 16 commentsBy Sylvia Thompson
If you agree with talk radio host Rush Limbaugh, who says Obama will never be impeached because he is the first black president, then that is a problem.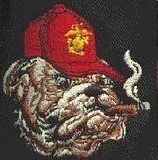 English: Barack Obama delivers a speech at the…English: Barack Obama delivers a speech at the University of Southern California Video of the speech Photo credit: WikipediaIt is time for this nation to stop ignoring a full fifty percent of Barack Obama's heritage and claiming that he is "black," as though his mother, grandparents who reared him and an entire family lineage did not exist.
If you think about it, this nation has not yet elected, in the true sense, a black president.The first American black president will be someone like former presidential candidate Herman Cain or former Congressman Allen West.gophumgophum Photo…
View original post 99 more words