Gunny G: BLOGGIN' BAD!~MAKE AMERICA "AMERICAN"! AGAIN!!!!! (FUBO!) BRING BACK AMERICA's HAT! (THAT BAD ASS DEPLORABLE FEDORA!) ~ $H!T-CAN THE STAIN, STIGMA, STENCH AND SHAME OF "THE PRINCE OF FOOLS"~ AND: "FINALLY," ~ BRING THE "POF" TO JUSTICE!, EXPOSE! AINOs (AMERICANS IN NAME ONLY), AND FLUSH THE SWAMP~POWER-FLUSH! "TWICE!"-("FLOATERS" Y'KNOW!) -POTUS .45 TRUMP COCKED and LOCKED!.....-ONE RIGHTEOUS MAN--IF WE CAN KEEP HIM! ~ Illegitimi non carborundum..!
EXCERPT !!!!!
……In the first place, Barack Hussein Obama is not the legal president of the U.S.
Actually, his name is not Barack Obama, he was not born in the United States and, in both occasions, he intentionally avoided taking the Presidential Oath of Office as specified in the Constitution.
Therefore, he is nothing but a criminal impostor.Adding insult to outrage, of lately a rumor has been circulating that the First Lady is actually a First Tranny.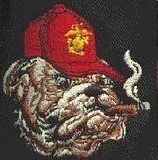 View original post 355 more words