Gunny G: BLOGGIN' BAD!~MAKE AMERICA "AMERICAN"! AGAIN!!!!! (FUBO!) BRING BACK AMERICA's HAT! (THAT BAD ASS DEPLORABLE FEDORA!) ~ $H!T-CAN THE STAIN, STIGMA, STENCH AND SHAME OF "THE PRINCE OF FOOLS"~ AND: "FINALLY," ~ BRING THE "POF" TO JUSTICE!, EXPOSE! AINOs (AMERICANS IN NAME ONLY), AND FLUSH THE SWAMP~POWER-FLUSH! "TWICE!"-("FLOATERS" Y'KNOW!) -POTUS .45 TRUMP COCKED and LOCKED!.....-ONE RIGHTEOUS MAN--IF WE CAN KEEP HIM! ~ Illegitimi non carborundum..!
…………..EXCERPT!!!!!!!!!!!!!
Normal law enforcement will have long been gone in a quarantine zone and people will be left to fend for themselves.
Being trapped in a quarantine zone is a death sentence.
Most of America Will Be Placed In a Quarantine Zone
Africa provides a predictive model which shows the U.S. their future once Ebola arrives inside of the country.Initially, Sierra Leone and Liberia attempted to isolate infected Ebola patients.
***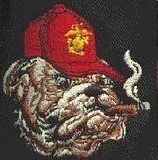 ***
The strategy was a failure. Isolation quickly turned to quarantining. In fact, Sierra Leone's government originally quarantined more than a million people in an attempt to bring an end to the spread of the deadly Ebola virus. When this strategy became ineffective, the quarantine zone was expanded two million.
View original post 506 more words