Gunny G: BLOGGIN' BAD!~MAKE AMERICA "AMERICAN"! AGAIN!!!!! (FUBO!) BRING BACK AMERICA's HAT! (THAT BAD ASS DEPLORABLE FEDORA!) ~ $H!T-CAN THE STAIN, STIGMA, STENCH AND SHAME OF "THE PRINCE OF FOOLS"~ AND: "FINALLY," ~ BRING THE "POF" TO JUSTICE!, EXPOSE! AINOs (AMERICANS IN NAME ONLY), AND FLUSH THE SWAMP~POWER-FLUSH! "TWICE!"-("FLOATERS" Y'KNOW!) -POTUS .45 TRUMP COCKED and LOCKED!.....-ONE RIGHTEOUS MAN--IF WE CAN KEEP HIM! ~ Illegitimi non carborundum..!
Source: Western JournalismThere has been much chatter recently in the press about how President Obama has ignored the recommendations and advice of his senior military leaders.Civilian control of the military is a bedrock principal of the Americanlegal framework. Our generals, for the most part, have saluted and charged the hill of bad strategy–and even worse, the micromanaging and implantation of this bad policy by our incompetent armchair military officers in the White House. However, over the last few weeks, the president's strategy to defeat ISIS, or the lack of one, has caused even more disagreement and wringing of military hands to bubble to the surface.I can remember as an Air Force officer during the Clinton administration that there were actually memos…………
MORE!!!!!
via How Can The U.S. Military Serve A Criminal? | wchildblog.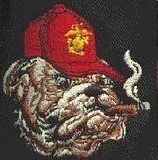 MORE!!!!!
View original post 208 more words